Live Events are now broadcast on Facebook Live.
For past event recordings, please see our Ustream channel: http://www.ustream.tv/channel/readingrockacademy.
Our Next Event is:
Rock for Life on Thursday 16th February at the Facebar in Reading –
Doors open at 7pm Thursday 16th February 2017 – The Rock Academy Foundation has teamed up with the Reading Group for Cancer Research UK to host a joint charity fundraising gig in February 2017. The gig is focused on raising money and awareness for cancer in kids and teens at The Face Bar in Ambrose Place, Reading, feature performances from a number of Rock Academy bands and performers alongside exciting local bands.
Recommended donations on the door: £6.00 adults / £4.00 under 18s
Also available to buy on Skiddle.
If you haven't already, please help us to claim Gift Aid by completing our Gift Aid Declaration form for past, present and future donations.
You can also complete a Single Donation Gift Aid form if you prefer.
_______________________________________________________________________________
Light Up Reading Christmas Party
Sunday 11th December 2016
_______________________________________________________________________________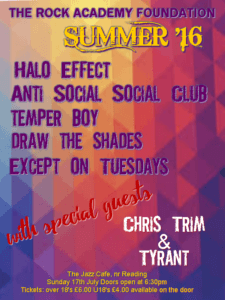 Summer '16
Sunday 17th July 2016
________________________________________________________________________________
Spring '16
Friday 18th March 2016
_______________________________________________________________________________
Winter '15 
Sunday 16th December 2015
---
Summer '15 
Friday 17th July 2015
---
Spring '15 
Sunday 29th March 2015
---
Winter '14 
Sunday 21st December 2014
---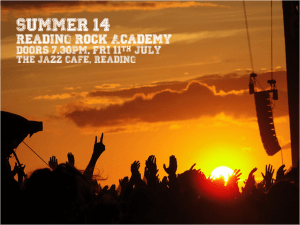 Summer '14 
Friday 11th July 2014
---
Band Experience Live in 2014
Spring Term 2014
Friday 28th March 2014