Winter '14 
6pm Sunday 21st December 2014 – the 1st event of the academic year sees the Rock Academy showcasing the very best in up and coming musicians. Watch our bands plus special guests play live music at The Jazz Cafe in Reading.
This is a special event for The Rock Academy due to becoming a fully registered charity.  We will now be running all live performances as charitable fundraising events, so that we can claim Gift Aid and put all proceeds back into improving the Academy.
Recommended donations: £6.00 adults / £4.00 under 18s
Please help us to claim Gift Aid by completing our Gift Aid Declaration form for past, present and future donations.
You can also complete a Single Donation Gift Aid form if you prefer.
---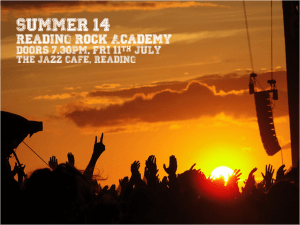 Summer '14 
Friday 11th July 2014
---
Band Experience Live in 2014
Spring Term 2014
Friday 28th March 2014